Self
"Gizmodgery"
Spongebath Records, 2000

Already an established power pop group, Self goes a step beyond on their fourth album by trading their traditional instruments for toys. And upon first listen, you might not even guess that the band's main axes have been replaced by such hardware as a Playschool Busy Guitar, a Suzuki Omnichord, Micro Jammer Drums, and My First Shaver. In fact, the amped-up production holds its own next to most rock-radio-ready fare you're bound to hear.

Written and performed entirely on toys, "Gizmodgery" can't help but beg comparisons to "Groovy Neighborhood," the seminal album by Pianosaurus. But where Pianosaurus stuck with a small ensemble of acoustic instruments, Self employs a veritable toy store of electronic kids' devices. Voice boxes ripped from stuffed dolls and teaching toys sing to battery-powered guitars and tin cymbals. Backwards toy piano lines and hyper Synsonics drum pads keep things weird among the chirps and blurps of cheap keyboards. Although in interviews the band admits to approaching the album as a kitschy project, Self (much like Pianosaurus) has the chops to pull it off without sounding jokey.

In addition to a long list of toys used in recording this album is a variety of styles. Pop, heavily distorted rawk, and booty-shakin' funk lead the way. Some softer (yet no-less head-nodding) numbers appear too, including a cover of Michael McDonald's "What a Fool Believes," and the prom-theme-ready "Ilovetoloveyourlovemylove." The only drawback of this quirky disc is the amount of expletives; the song "Trunk Fulla Amps" contains 18 alone. Otherwise, it's a satisfying album you'll no doubt find yourself singing along to.






Toydeath
"Pokey As Shake"
Independent release, 2001

Picture a hyper band of aliens channeling through a broken AM radio, and someone's playing with the speed control. But the Hendrix-worthy feedback wails are actually the sirens of toy fire engines. The spastic beats courtesy of model helicopters. Toydeath proves that punk ain't dead, it's just moved into the toy box.

Re-purposing electonic children's toys to create energetic bursts of rock'n'roll mayhem, this Australian trio knows you don't have to play by the rules to have fun. Using their noisy gizmos, they extract the elements of music that kids will grow to torture their parents with. These 8-bit instruments provide the kinds of tinny distortion and glitchery that bands like Nine Inch Nails and Marilyn Manson sell their souls for. It's like listening to Sigue Sigue Sputnik as Tamagotchi.

"Jam with Elmo," squeals a familiar fuzzy voice, leading listeners in a hyper digital dance. A chorus of circuit-bent animals sing a round of "Funkytown." A playroom parade of blaring toy trucks welcomes you to "Twaffik City." Each track on this disc could be the soundtrack to a maniacal cartoon, or your next sugar high. Let's hope nobody prescribes this band a dose of Ritalin while they continue to craft their hyperactive hootenanny.

Toydeath homepage »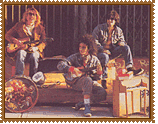 Pianosaurus
"Groovy Neighborhood"
Rounder Records, 1987

Quite possibly the first all-toy instrument band -- at least the one to make the biggest splash -- Pianosaurus released this fun full-length album after winning over coffee house crowds in New York and New Jersey. Along with bouncy standards by Chuck Berry and John Lee Hooker, the group takes listeners on a joyful tour of thrift shops, toy stores, and a little street named Love. The trio plays their set with loads of energy, and I'm sometimes surprised to hear their plastic strings and paper drums survive a whole song. Sure to get smiles at any party.

Pianosaurus on Rounder Records »



Reviews to come: Toys in Babeland, Margaret Leng Tan, Klapper and Turner, more!